Health
Pregnancy announcement: When should you tell people you're pregnant?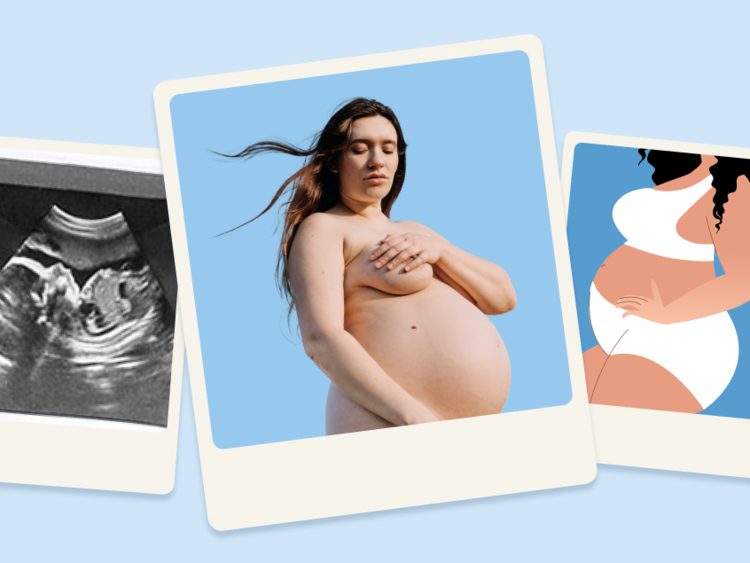 There are lots of considerations when deciding when to announce a pregnancy. Often, it's a battle between when it's safe to share pregnancy news and how long you can keep it quiet. We ask an OB-GYN if there's really a right answer…
Soon after her positive test, 35-year-old Arianna was eager to announce her pregnancy. It wasn't excitement that made her determined to share the news, however; she wanted to tell people why she wasn't acting her usual self. The first trimester had been tough, as Arianna not only battled with chronic fatigue, nausea, and vomiting but also experienced antenatal (or prenatal) depression. 
Arianna, who heads up Pachamama, an online support group for new and expecting mothers, often felt she didn't want to get out of bed. "I felt like crap, but I put this insane amount of pressure on myself to keep going at my usual pace," she says. "I thought, I'm just going to tell everyone that I'm pregnant and I feel awful. If anyone's going to understand, it's that community, right? But for some reason, I just couldn't do it. I couldn't reveal my pregnancy before the 12-week mark."  
You've probably heard of the "12-week rule," the universal benchmark for when it's safe to announce a pregnancy. But to what extent is it fact or folklore? 
When is it safe to announce a pregnancy?
"The 12-week rule is not actually a rule," says Dr. Nazaneen Homaifar, an obstetrician-gynecologist (OB-GYN) at Inova Health System, DC, USA. "It's more a recommendation from medical providers that by 12 weeks, if everything is okay, then there is a good chance that the pregnancy will continue."
This is because the greatest chance of miscarriage during pregnancy is in those first 12 weeks. It's estimated that about 1 in 8 pregnancies will end in miscarriage, and more than 80% occur within the first trimester. Your first ultrasound scan aims to confirm your pregnancy and may also be part of a screening test for Down's syndrome. It typically takes place between weeks 10 and 14. 
"To determine if a pregnancy is viable, we look for certain milestones," Dr. Homaifar explains. First, there's the development of the yolk sac, which provides the embryo with nourishment before the placenta is formed. Then comes the fetal pole (the first direct image you can see of a fetus), fetal number (whether it's a single or multiple pregnancy), and then the fetal cardiac motion (what will go on to be the baby's heartbeat). "Those milestones take about 8 weeks to reach, and then the period between 8 to 12 weeks is just about making sure they are continuing," she says.
"The 12-week rule is not actually a rule"
While Arianna was aware of the medical argument for sharing pregnancy news at 12 weeks, the reason she waited was less rational. While running Pachamama, Arianna had been sharing the details of her fertility journey on Instagram for some time. If she'd had a miscarriage, she would have opened up about that too. But still, something stopped her from going against "the norm."
"I think it was this bizarre societal pressure … you almost have to justify why you'd announce a pregnancy early because it's not 'how it's done,'" she says, adding that she was worried people would think of her as "foolish" if she shared her pregnancy news earlier than usual. "My mum was like, 'Don't tell anyone! ANYONE!' As if that would jinx it."
Keeping her pregnancy secret ultimately took a toll on Arianna's mental health. "The whole thing was really isolating," she says. "If I'd announced it early, I would have felt much more supported and far less alone. I don't think it's best to wait 12 weeks. I think you should decide for yourself and announce pregnancy whenever you feel comfortable."
Why do some people make an early pregnancy announcement?
Leila, 41, founder and CEO of online women's health clinic Naytal, took a different approach. She was completely open about her pregnancy from day one. 
"I've always been really passionate about the fact that, regardless of what happened, I wanted people to know and to support me," she says. "And I'm not very good at pretending to drink a beer — it's pretty obvious when I'm drunk! I think whatever you decide to do, you're going to feel pressure. So you just have to work out what's right for you."
Leila and her partner started trying for a baby when she was 37. They ended up having in vitro fertilization (IVF) and got pregnant with their son Phoenix, who is now two, on their second round.
"I said to people, 'Don't get too excited. I'm just telling you as an FYI,'" says Leila. "I've experienced miscarriages, and I've been open about that as well. People need to know why you're canceling plans or why you might need a bit of extra TLC. But I've always been an open book; everyone's different."
""If I'd announced it early, I would have felt much more supported and far less alone."
For others, experiencing fertility issues or miscarriages can make them more cautious about sharing pregnancy news. Helen-Rose, 33, had two miscarriages before she became pregnant with her son Max, who is now 4 months old. 
While she had told her parents earlier on during her first two pregnancies, the third time, she decided to wait it out. "I didn't want the heartache of having to tell everyone if something had happened," she says. "I felt like we would be opening ourselves up to even more pain."
During her three years of trying for a baby, understandably, Helen-Rose found it triggering to see other people's pregnancy reveals on social media. "I was so happy for them but also so angry, so jealous, and so resentful," she says.
When to announce pregnancy on social media
It can be tricky to know how to announce a pregnancy sensitively. If you are announcing to someone who has struggled with miscarriages or infertility, Dr. Homaifar believes the most important thing is to give people time and space to digest the news. "Consider telling people in a way that means they don't have to respond on the spot, such as in an email," she says. "This allows them time to process the information on their own."
Helen-Rose and her partner waited two weeks after her 12-week scan to make their own Instagram announcement. "I felt a lot of guilt about the other women out there who are still struggling," she says. "I didn't want to upset anybody because I've been in that position. But I also felt it was my time, and I should enjoy the moment."
Ana Carolina, 31, didn't feel ready to tell people she was pregnant until she was 22 weeks along. "My first pregnancy ended in miscarriage, and I was terrified of something happening again," she says. "I was shielding the ones I love from further pain because obviously, when I told my parents and my partner's parents that we had lost a baby, it was very sad. So I was protecting them and protecting me as well."
Keeping her pregnancy private all that time was made easier by the pandemic. When Ana felt she was starting to show, people just assumed she'd put on weight in lockdown. She couldn't fly to her hometown and see family as often, and at the few social events she attended, Ana found it easy to make excuses about why she wasn't drinking. In fact, the pandemic saw a rise in entirely "secret" pregnancies, where some parents didn't reveal their baby news until after the birth. 
Ana decided to tell people after her second scan, which usually takes place between 18 and 21 weeks. This is where the sonographer will look in detail at the baby's bones, heart, brain, spinal cord, face, kidneys, and abdomen. Sometimes, they will also be able to tell the baby's sex.  
This meant that Ana had two pieces of news to share. "I said to my grandmother, 'You're going to be a great-grandma this year, and it's a girl!'" she recalls. "She was really happy."
But even with the silver linings of social distancing rules, keeping her pregnancy a secret wasn't always easy for Ana. "I felt like I was cheating on my family in a way," she says. "And I sometimes feel that I didn't celebrate the pregnancy as much as I could have. I think if I got pregnant again, I would probably announce it earlier and try to enjoy it a bit more."
When to announce pregnancy: The takeaway
As we have learned, the 12-week rule for announcing a pregnancy isn't dictated by doctors. Really, the question of when to announce pregnancy is a very personal one. Your unique feelings, past experiences, and circumstances can all play a role in determining when sharing the news is right for you.
"Everyone is different," says Dr. Homaifar. "It's no one else's business. You, as the pregnant person, are ultimately the one who gets to decide."